Yvonne Rydin - Governing for Sustainable Urban Development
A PublicForum Book Talk
Wednesday, 22 September 2010, 12:00 Eastern (New York) / 16:00 GMT (60 min audio conference)
Free. A Circle Club members-only event.*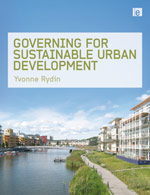 Our September PublicForum features Professor Yvonne Rydin, author of the new book, Governing for Sustainable Urban Development (Earthscan, 2010).
Achieving urban sustainability is one of the most pressing issues facing governments and planners today. This book is the first to provide a cohesive analysis of sustainable urban development and examine the processes by which change can be achieved in the way in which urban areas are built.
In this timely work, Rydin looks at how sustainable urban development can be delivered on the ground through a comprehensive analysis of the different modes of governing for new urban development. She considers a range of policy tools that influence urban development and which constitute different modes of governing, and she provides an innovative conceptual emphasis on learning within governing processes. The book draws on a wide range of existing research, policy and literature together with case study material focusing on London. Above all, it is concerned with demonstrating how sustainable urban development can be delivered in practice.

Join us for a stimulating conversation with Professor Rydin about this exciting new book, which promises to become essential reading for students, academics and professionals around the world in the fields of planning, urban design and architecture who are working to achieve sustainability.
About Yvonne Rydin
Yvonne Rydin is Professor of Planning, Environment and Public Policy at University College London's Bartlett School of Planning. She has extensive knowledge of environmental policy, governance and sustainability at the urban level with a particular interest in sustainable construction and design, networks of governing and the potential for learning to deliver sustainable urban development. During 2007-2008 she chaired the Lead Expert Group for the UK Government's Foresight project on Sustainable Energy Management and the Built Environment (Foresight offer insights to UK government on policymaking in the area of science and technology.
Rydin also is a member of the Royal Institution of Chartered Surveyors and leads on their Global Zero Carbon Capacity Index. She is the author of five books including Urban and Environmental Planning in the UK (Palgrave, 2nd ed. 2003.)
Registration
To return to the Schedule without registering for this class, use your browser's Back button or click here.
*By registering for this event, you agree to become a member of the Circle Club (if you aren't already). Members receive occasional emails informing them of PublicDecisions events and discounts on selected events and other opportunities. Membership is free; there's never an obligation to purchase anything, and you may cancel at any time. Read our privacy policy here.